Landscaping after you install an Above Ground Pool

Landscaping after you install an Above Ground Pool
First, once the installation is done fill and let the pool and settle for a couple days.
Step two, after in landscaping after you install an Above Ground Pool and the electrical has been finished is to make sure your pool has been
properly inspected by your city or town. This will insure that any changes are done before you spend the time on landscaping and you will not have to pull out things your just planed or installed. I know everyone want to get the yard back to your own beautiful oasis, #lovemypool.
Then you want to place a layer of crushed stone around the perimeter. Start with placing a layer of landscaping fabric down to prevent weed growth. The layer of stone should be placed several inches high onto the wall and about 1-2 feet away from the pool. This layer of stone provides two long lasting guards against pool failure. First being that the crushed stone acts as a barrier from letting hard rains to penetrate underneath the pool wall and deteriorate the base. Second is that having crushed stone against the wall instead of dirt will allow water to dissipate and dry quicker. This action will allow the pool wall to remain as dry as possible so it won't oxidize before its time.
Planting around your above ground pool
If you plan on planting around your above ground pool make sure you find plants that are well suited for the moister and chemicals from
your pool. We also recommend installing landscaping edging between the pool wall and the plant. This will keep the roots from getting under the pool liner which can cause channels in the liner.
If you're looking for maximum benefit then go with a bigger crushed stone like 3/4 inch – 1 and 1/4 inch in size. Try and avoid acid washed stone as this will get acid on the wall and rust if quicker than Mother Nature ever could.
Landscaping Don'ts
While mulch is a great for Landscaping after you install an above ground pool, material for placing around plants, be careful not to place a mulched area too close to the Pool liner or water. It can be very effective to have mulched plant life around the perimeter of your pool, as a transition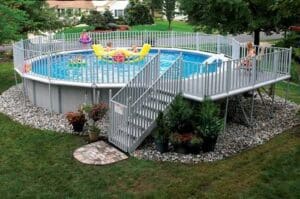 from the pool to your lawn, but take into consideration that liners are made with cellulose; mulch can attract termites, carpenter ants and other bugs that can damage your pool liner. Mulch can also get tracked into the pool on wet feet or when gusty winds blow.
Grass all the way up to the pool can cause two problems. First is, soil in most cases is acidic and can greatly reduce the life span of the pool wall or bottom track. Second is, grass up against the pool wall needs to be trimmed and a Weed Wacker can cause serious damage to a pool wall.
[twitter_follow username="TeddyBearPool" language="en"][fbshare type="button" width="100″]